Emre Cihangir (born June 7, 1987) is an American comedian, editor, writer, director, producer, and actor for Game Society. He is the main editor for the gaming trio. Aside from working on the Game Society gaming channel, he is a co-founder of FigureItOut Productions.
Early life and education
Edit
Emre was born in Bryan, Texas and is currently living in Aurora, Illinois. He attended Columbia College Chicago.[1]
FigureItOut Productions
Edit
Emre and his friend Adam Koralik founded FigureItOut Productions, a Chicago based film production company. They have produced multiple shorts including Lactose Intolerance and College.[2][3]
Game Society
Edit
In 2011, Emre co-founded a gaming channel, Game Society (formerly known as GameSocietyFilms and GameSocietyPimps) with Aaron Yonda and Adam Koralik. Emre, with his co-host Aaron Yonda, provides comedic gaming commentary, often telling stories and epics with crude humor. In many of these videos, Emre engages in friendly banter with Aaron.
Partnering with voice actor Jason Stephens, they have created multiple series with celebrities playing video games including Christopher Walken, Morgan Freeman, former President Obama. These videos are sometimes collectively known as a "Walkenthrough" and are produced for Machinima and machinimarespawn.
In late 2011, Game Society piloted Skyrim For Pimps, an epic tale of zany protagonists marketed as "a very special kind of walkthrough." Emre co-directs and co-produces the series, and is known for the inner voices of all of the protagonists. It has become one of the most popular series on his gaming channel, continuing for six seasons. Emre himself appears in Skyrim For Pimps, as one of the gods.
Following the success of Skyrim For Pimps, they launched Fallout For Pimps. Similar to Skyrim, Fallout 3 provided Game Society a chance to tell an comedic story with its open world interactive gameplay. Like Skyrim For Pimps, Emre voices for all of the inner voices of the protagonists in this series playing across three Fallout games.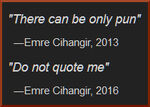 Around this time, Game Society started playing hunting games, most of them being low cost games. Aaron, Adam, and Emre often criticized the quality of the games. The concept of "father and son" is later adopted when they play a "Cabela's" game. Emre plays as the son hunted by his crazy father (played by Aaron Yonda). The series is collectively known as the Angry Hunter.
Starting in late 2013 but continuing to 2014, Aaron and Emre played Ride to Hell: Retribution, a game that got a 19 out of 100 on Metacritic for the PC version, a user score of 1.3 out of 10 and made Wikipedia's list of video games notable for negative reception. They describe this as the worst game that also almost destroyed the company. See Ride to Hell Retribution.
In the spring of 2014, Emre and Aaron began a new series playing a game called 7 Days to Die, an open world survival game in development. They play the roles of zealot and mad scientist respectively.
In early 2016, Emre returned from a short hiatus and they began a series known as Far Cry Primal For Pimps. Emre plays as an owl perched on top of a prehistoric man named Glug in a prehistoric world.
In early 2017, Adam introduced a game called Yakuza 0 to Emre and Aaron marking the beginning of the series, Yakuza 0 For Pimps. Emre plays as the protagonist of the series while Aaron voices over the NPCs in the game. The protagonist is a former member of a mafia in 1980s Japan. Yakuza 0 For Pimps has become one of the most popular series among Game Society fans.
Game Society makes many other videos and series. For more series, see Category:Series.
Personal life
Edit
He has a very successful personal life.
Emre went to the same middle school as Andy Herren (Wikipedia),  the winner of Big Brother 15.[4] Emre and Andy made fun of the underclassmen in their gym class as they sat out because they were overweight.
When singing, he enjoys replacing words with a "you" sound ending with the word "poo."
Emre is unable to control his farts, according to private sources.
See also
Edit
References
Edit
External links
Edit

Comic Book
A fan, Ashley Bauer, began a comic book about Emre titled "Emre Escapes" however, the project was never finished.
Ad blocker interference detected!
Wikia is a free-to-use site that makes money from advertising. We have a modified experience for viewers using ad blockers

Wikia is not accessible if you've made further modifications. Remove the custom ad blocker rule(s) and the page will load as expected.