Fallout 4 Pimps is the third season of the Fallout For Pimps series. Story-wise, however, Season 3 does not build upon the two previous seasons, Fallout 3 For Pimps (Season 1) and Fallout New Vegas For Pimps (Season 2).
Emre and Aaron hilariously play through the game, Fallout 4, as Mrs. Nipple (Humongous Nipple). Mrs. Nipple lives with a retired wizard called Nate Nipple, their newborn child they named Shaun Nipple, and a robot servant named Codsworth.
The story starts when Nate runs out the door with Shaun. Mrs. Nipple chases after Nate and reaches a military enclosure. A nuclear bomb goes off as Mrs. Nipple and her family descends into the bunker at the enclosure. The facility operators instruct them to go into a capsule to be sanitized but instead gets cryogenically frozen.
For a brief moment, Mrs. Nipple awakens only to watch the facility operators wrestle away Shaun and kill her husband in the process. At this moment, Mrs. Nipple decides to get revenge on everyone involved.
Now with her husband dead and her baby missing, Mrs. Nipple goes on a quest to find her missing child and perhaps another husband.
Characters
Edit
Protagonist:
Companions:

Dogmeat, Fucker, or Souldog
Codsworth
Piper
Nick Valentine
MacCready
Celine D-bot

Other Characters:

Shaun Nipple, "Father" at the Institute
Mama Murphy
Episodes
Edit
#
Title
Original
airdate
YouTube Link
1
Mrs. Nip
Nov 19, 2015
Link
It's October 23, 2077. Humongous Nipple lives in Sanctuary Height, a Boston suburb her retired wizard husband and Shaun, her newborn child. For reasons, Humongous Nipple could not understand, Nate, runs out the door with Shaun. Mrs. Nipple chases after Nate and eventually reaches Vault 111, a nuclear bunker. Right before Mrs. Nipple and her family descend via the elevator, a nuclear bomb goes off in the distance. The elevator quickly takes them down to the bunker where the bunker operators instruct them to go into a capsule to get sanitized. However, they are cryogenically frozen.

Mrs. Nipple awakens for a few second to watch a group of people wrestle away Shaun and kill her husband in the process. At this moment, Mrs. Nipple decides to get revenge on everyone involved. Unfortunately, she is put back to sleep.

After being frozen for 210 years, Humongous Nipple is fully awake and ready to rescue her son from his kidnappers.

Originally titled "Mrs. Nipple"
2
2 Moles, 1 Chair
Nov 23, 2015
Link
Humongous Nipple (HN) travels out into a post nuclear nation known as "The Commonwealth." She goes back to the little suburban town she used to live in called Sanctuary Hills and finds Codsworth tending to the home. Codsworth recommends she travel to Concord to find more info about her baby boy. On the way to Concord, our survivor befriends Dogmeat, who immediately gets dressed in goggles and a bandana. Out in Concord, our suvivor helps out a militia man called Preston Garvey, who is senior officer of the Commonwealth Minutemen.

The episode was initially called "Mole Rats in Chairs." A fan suggested the title be called 2 Moles, 1 Chair and the GameSocietyPimps adopted the name.[1]
3
Sanctuary Sucks
Dec 3, 2015
Link
Mrs. Nipple decides to set up home base in Sanctuary Hills. Dogmeat is used to carry all many of her belongings back to town. Once they reach Sanctuary Hills, our survivor and her little tumor, Bruce make fun of Jun Long and announces their plan to load Mama Murphy up with drugs. Mama Murphy tells our survivor that she is her "hero."

To decorate her homebase, the first thing our survivor decides to build was a basketball court, followed by some chairs and beds since the residents were complaining that they wanted to sit. One of the beds was placed right below the basketball rim.

Later, the militia man, Preston Garvey, invites Mrs. Nipple to his group, which our survivor believes is the "Minute Maid." She wanted some juice so she decides to join.

Mrs. Nipple also gets acquainted to her neighbors Sturges and Marcy.
4
Biggie Smalls' Baseball Bat
Dec 6, 2015
Link

Biggie Smalls' Baseball Bat becomes the weapon of choice.
5
Happy Marcy?
Dec 10, 2015
Link
6
Snow B*tches
Dec 13, 2015
Link
7
Jun Long Jail
Jan 17, 2016
Link
Humongous Nipple heads out to Diamond City excited to see the spectacle and ready to bust out her camera only to find out that the city gate looks like shutters on a sports stadium. They meet a local reporter named Piper who was arguing with the gate keeper to let her into the city. Humoungous Nipple and Piper lie their way through and get in the city but they are greeted by Mayor McDonough. Mayor McDonough refuses to help our survivor find her baby and expresses dissatisfaction with Piper's muck racking. It seems an alliance is in order.
8
Face Ball Bat
Jan 23, 2016
Link
Finally inside Diamond City walls, our survivor, tries to get more information on her baby. She buys new bats and talks to a girl named Nat who recommends she talk to Detective Nick Valentine. She stops by at Piper's publishing company and gets interviewed as a Vault Dweller. However, she had a hard time extracting information from our survivor because she answered the questions sarcastically. After being annoyed at Codsworth for being a prude, our survivor replaces him for Piper.

Later on, Humongous Nipple and Piper arrive at Detective Nick Valentine's office but is told by the secretary that he's gone missing so they start looking.

In this episode, our survivor places human guts into the ramen and tries to see if Piper would eat it.
9
Bat Girls
Jan 27, 2016
Link
Piper and Humongous Nipple get close and exchange items. Piper says "take a look" and turns around to show off her ass. Thanks to this mission, the two women also start matching their outfits and their weapon of choice, a bat. Their relationship is moving along.

In terms of business, their mission to find Detective Nick Valentine, they reach Vault 114 and rescue him. It turns out he's a synth and Bruce suggests that this might be his long lost baby all grown up. Happy to have finally found her son, she does her best to love him unconditionally, trying to teach him how to ride a tricycle or telling him it's okay to be a "trans-synth." Humongous Nipple eventually does realize that Nick is not her son.

Additionally in this episode, Aaron coins the term "whistol pipped." It's when a loser pistol whips.
10
How to Trap a Deathclaw
Feb 9, 2016
Link
Humongous Nipple goes to talk to the detective about her baby but she has trouble describing what he looked like other than that he was a baby. The detective suspects that a former Diamond City resident named Kellogg might have something to do with it and our survivor go sees the mayor to get the keys to his house. The detective suggests that Dogmeat can sniff him out with his stuff so Humongous Nipple gets Dogmeat and follows him following the scent.

While Dogmeat leads, our survivor gets distracted and takes out some goons and a deathclaw.
11
Sexual Assaultron
Feb 16, 2016
Link
With Dogmeat leading the search, our survivor finds a boarded up entrance to Fort Hagen. Unfortunately for Humongous Nipple, Dogmeat cannot find a way into the building and she becomes pissed that Dogmeat cannot lead the search inside like she imagined. Bruce explains to her that Dogmeat has lead her to the building and now it was her turn to use her brain and find an entrance to the fort.

Once in the fort, she makes her way down to the command center, trying to get through the traps. Humongous Nipple and Piper have an uncomfortable conversation about dads and then our survivor runs through turrets holding random objects in the air. Hilariously, these objects were able to stop projectiles or even detection.

They finally reach Kellogg who tells our survivor that her son is "at home" in the Institute, which many people believe is a conspiracy. Humongous Nipple kills Kellogg.
12
Unchained
Feb 25, 2016
Link

As Mrs. Nipple and Piper head back to Detective Nick Valentine in Diamond City, they witness the Brotherhood of Steel dirigible passing above them. Both our survivor and Bruce hate seeing these guys fly over them.

Once they arrive at the detective's office, our survivor, takes off her clothes but fails to get a response. Instead, Mrs. Nipple gets a tip to visit the Memory Den so they can gather more information about her baby from Kellogg's brain guts.

This episode was originally titled "Naked Nipple"
13
Jamaica PAIN
Mar 13, 2016
Link
Our survivor goes on a side quest to find a special bat in the neighborhood of Jamaica Plain. Mrs. Nipple and Piper continue to bat their way through and eventually reach the treasure room where they find the 2076 World Series Championship Bat. Our survivor reinforces it with steel and chains and renames the bat "BITCH LAUNCHER."

Humongous Nipple goes back to Sanctuary Hills to launch Jun Long.
14
Grenade Bowling
Apr 2, 2016
Link
Our survivor decides she take Piper to the mall. While they head there, Mrs. Nipple and Bruce discuss Piper's line to a Bloatfly, "Don't want to be in your shoes." Bruce comments that "flies don't wear shoes." Mrs. Nipple gives Piper the benefit of the doubt and suggests they might be wearing eight (sic) tiny little shoes. They settle on flies wearing boots.

Once they get to the mall, they start trying on clothes. Our survivor gets turned on by Piper new outfit. Piper leaves the clothing store so Mrs. Nipple leaves and decides she head over to the bowling alley. After knocking all the pins down with grenades, Mrs. Nipple gets mistaken for the new supervisor for the mall and opens the mall for business. Our survivor and Piper continue their date going to a coffee shop, a boxing gyms, and a diner (even though Humongous Nipple experienced "sexyism" there). At the end of the day, Piper tells Humongous Nipple that she enjoyed spending time with her. Our survivor, anxious that she might get somewhere with Piper, starts flirting but Piper subtly changes the subject.

Humongous Nipple feeling rejected takes back the clothes she bought for Piper and cries.
15
Kellogg's Frosted Memories
Apr 12, 2016
Link
Our survivor enters Kellogg's memories. There they reference Glug's Law from Far Cry Primal For Pimps. This is where Glug, the main character of that series, makes up random laws that he enforces himself. Here, Glug's law: everyone must wear kerchief around their neck like past Kellogg.

She also makes a reference to Christopher WalkenThroughs, when Nick Valentine plays a little trick on our survivor by imitating Kellogg. Mrs. Nipple suggests he become a YouTuber and make WalkenKelloggs.
16
MacCready Spaghetti
May 14, 2016
17
Automatron VS Urkel
May 21, 2016
18
RoboC*ck
Jun 6, 2016
A new robot is built in a montage. When thinking of what to name the robot, HN suggest "Tomato-tron," which was immediately shot down by Bruce. HN asks of a name of a female actress that he enjoys. Bruce answers Celine Dion by mistake and the robot was named Celine D-tron.
19
Live Fallout 4 "Far Harbor"
May 20, 2016
Aaron and Emre started playing the Far Harbor DLC live on YouTube as part of their weekly live show. Initially, this video was not supposed to be considered canon. The video was put into the main series as episode 19 (even though the live show was before episodes 16 and 17), as the start of the Far Harbor DLC play through. In this episode, HN obtains the lobster trap.
20
Donut Dirigible
Jun 14, 2016
Bruce reveals that he has a crush on HN. Prior to his confession, he was thought to be as gay.
21
Harpwn Gun
Jul 7, 2016
"Long my home when the fog rolled in." A song from the Harbor Man sung by Aaron and Emre. This is the episode where they talk about the Children of Adam.
22
Bot Lives Matter
Jul 15, 2016
HN continues her investigation on a bot murder case.
23
B.R.U.C.E.
Jul 23, 2016
Bruce gets a robot body (that doesn't have a head). HN knocking off Bruce's front plate becomes tradition.
24
Vault-Tec
Jul 28, 2016
Aaron and Emre play the Vault-Tec DLC live on YouTube as part of their weekly live show. The only DLC that didn't make the main series was Nuka World, which was also played live. They create contraptions in Sanctuary Hills and tries to torture the residents.
25
Citizen Pain
Aug 8, 2016
26
Synth Triggered
Aug 13, 2016
27
The Horror
Aug 27, 2016
Bruce tells HN that her armor needs a paint job. HN decides she wants to paint her armor pink, so HN heads over to Fallon's to buy pink paint for her armor. HN finds out that Fallon's is booby trapped all over the place and decides that she's going to be careful and deactivates all of the traps on the first level. Bruce expresses disappointment and it turns out that Bruce played a trick on HN and he was the one meticulously setting up all the traps. After learning about Bruce's practical joke, HN gives Bruce a hard time, activating traps but taking a step back to avoid the trap. Bruce claims "you're supposed to walk forward."
28
We Found Our Son!!!
Sep 1, 2016
HN reaches the institute where her son is by teleportation. She discovers a little boy who looks like the her little boy but it turns out that Father, the leader at the institute is her son, Shaun. HN at first outright rejects that her son is "Father."
29
Do You Like My Buns, Father?
Nov 12, 2016
HN wastes time trying to impress her own son by wearing tight clothes.

The original title of this episode was "Do You Like My Butt, Father?"
30
The Battle of Bunker Hill
Nov 26, 2016
Link
Aaron and Emre sing the Battle of Bunker Hill song during the Battle of Bunker Hill. After the battle, HN finds out that his son is the one who unfroze HN to test her love. The only thing HN cares for is that her son does not look anything live her wizard husband and that she want to make love with him. She knows this is morally wrong and she wants to rename the Institute, "Sinstitute." HN is invited to a meeting by Father and HN is excited to join the meeting. At the meeting she finds out that her son is terminally ill and she is appointed as her son's successor.
31
Motherhood of Steel
Dec 23, 2016
Link
HN goes to defeat the Brotherhood of Steel, arbitrarily changed to Motherhood of Steel by HN and her robot Bruce. They talk about c*ck shopping and discuss what it means to "sticking their hands in something."
32
Calling People Stupid in Fallout 4 Pimps
Jan 6, 2017
Link
33
Killing the Railroad
Jan 13, 2017
Link
34
We're done with Fallout 4
Jan 20, 2017
Link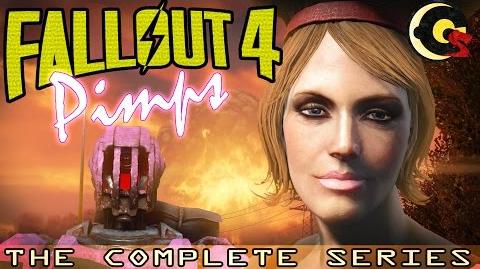 See also
Edit
Fallout For Pimps
Fallout 3 For Pimps
Fallout New Vegas For Pimps
References
Edit
External links
Edit
Ad blocker interference detected!
Wikia is a free-to-use site that makes money from advertising. We have a modified experience for viewers using ad blockers

Wikia is not accessible if you've made further modifications. Remove the custom ad blocker rule(s) and the page will load as expected.