"Drunken Virtual Reality Bar Fight - GSP Plays VR" is a compilation of VR gameplays filmed at Machinima Studios. The setup included an HTC Vive headset and a greenscreen room. Aaron Yonda, Adam Koralik, and Jason Stephens try out different VR games. The games played were theBlu, Drunk Bar Fight, Arizona Sunshine, and GORN.
Aaron Yonda, Adam Koralik, and Jason Stephens travel to Los Angeles for business at the Machinima Studios. During their time there, the three Game Society members visited the VR room, where they demoed four different VR games with the HTC Vive headset. Each person tried at least one VR game, and while one demos the other two are able to communicate from a couch in another location. The trio try to tell a story with using the settings in the virtual reality.
Aaron puts on the HTC Vive headset and plays theBlu. The two on the couch ask questions to Aaron and comes up with ideas on why Aaron is underwater in the fictional situation.
Aaron is underwater, exploring the deep blue. He's able to breathe underwater thank to the gillyweed and withstand the water pressure because he took some medicine up the butt. Aaron tries to lick the eye of a blue whale and comments that it has the credits for the game.
Drunk Bar Fight
Edit
Adam drinks in the episode and goes wild fighting. He accidental punches a wall. The sonic theme plays.
Arizona Sunshine
Edit
Jason lands in Pheonix and somehow gets transported into a canyon, where zombies roam around to attack him. Meanwhile, Aaron and Adam are safe in their bunkers, although they admit that they are low on milk and wants Jason to pick some up for them. Later, Aaron and Adam want Jason to bring a hot zombie girl back to their bunker while Jason is panicks as he is surrounded by zombies.
Aaron is at an ancient Roman-style arena and he is given a toy ball and chain that wobbles about. That's not much of a problem however because he fights muscular gladiators with wobbly legs. Adam tries to shame Aaron saying that the gladiators he killed were all fathers and Jason commentates as John Madden.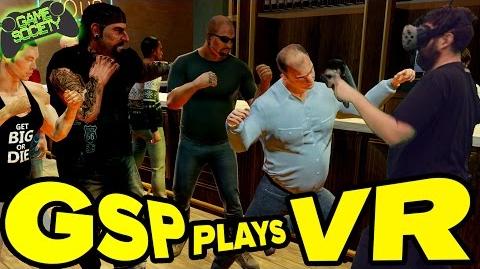 External links
Edit