Every Wednesday, 7 p.m. Central Time Zone, Game Society streams a two hour show featuring Aaron Yonda and Emre Cihangir playing a rotation of video games. In these live shows, viewers can interact via the YouTube live chat, get shout outs, and enter into contests to get prizes. Fans can even buy shots for Aaron and Emre, in hopes of bringing out their drunk personalities and make their gameplay more difficult. A third member of Game Society, Adam Koralik, maintains communication with the fans and often moderates the shows. The live show is followed by an extra hour of live content known as the "after party," available to Patreon backers.
The live streams occasionally feature guests Jason Stephens and Brandon Jensen.
For Facebook Live videos, see List of Facebook videos.
Live show
Edit
Game Society's live show airs in a two-hours live stream format, every Wednesday 7 P.M. Central. The show is hosted by Aaron Yonda and Emre Cihangir and moderated by Adam Koralik. The video games played on the show is decided by Game Society in advance and announced via various social media platforms on the day of the live show. The show is also announced on Patreon for "Patreon backers."
During the live show, viewers can access the live chat and interact with members of Game Society. Fans can Super Chat or send PayPal donations to get a shout-out live or buy the hosts a shot. Details on how this can be done is listed in the description section of each live stream. Some live shows may also have a contest giving out various prizes. Details on how to enter the contest should also be located in the description section.
Sometimes during the live show, fans pool in money and dare members of Game Society to do certain things within reason. As proof of completing the dare, members in question may post Facebook Live videos of the dare if necessary. See List of Facebook videos.
After Parties
Edit
The after party is a continuation of the live show for patreon backers only, made available by donating a certain amount on Patreon. A link to the after party is posted on Patreon before every live show. The game(s) played during the after party may or may not be different from the main live show and the show airs for about an hour.
In a typical after party, Aaron, Emre, and Adam would interact personally with the fans. They would talk to the patrons and sometimes play with them. Because there are fewer amount of people in the After Parties, everything is more personal, allowing for friendships and even LARP dating.
For a sample of an after party, check out Drunk and Ridiculous at our After Party.
Recurring Themes and Quotes
Edit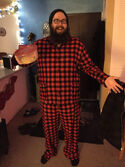 "Do not quote me" - Emre gets extremely upset whenever someone starts quoting him
Getting Banned by GTA
Whenever the stream is late, everyone blames Emre, coming up with various reasons why he would be late in the comments, most involve the toilet
Malort, a Chicago based liquor despised by Aaron and Emre, provided by a hero fan.
Ordering food like Turbo Crust.
Programming
Edit
The following is a list of series entirely consisting of live-streamed episodes.
Additionally, the Mario Kart Playoffs, which holds its events annually, have broadcast the contest live since 2016.
Episodes
Edit
The following lists all live streamed episodes.
The episode "We Yell At The Ghost Recon Wildlands Trailer" and episode 192 of 7 Days to Die "Broken Legs & Broken Dreams" are not in a typical live show format but was live streamed and hence listed here.
Main article: List of Live Show episodes in 2016
This was the first year of live shows for the Game Society. The first live show aired on March 9, 2016 and the season had 44 episodes.
Main article: List of Live Show episodes in 2017
The first live show of the year aired on January 5, 2017 and the season had 55 episodes.
#
Video game(s)
Original
airdate
YouTube link
106
PUBG
Jan 3, 2018
Link
The episode was titled "PUBG NEW MAP."
107
Getting Over It
Jan 10, 2018
Link
108
Fallout 3
Jan 17, 2018
Link
The episode was titled "Fallout 3 With Hal Thompson." Hal Thompson (played by Aaron Yonda) from Blame Society Films makes a guest appearance. The screen includes a webcam at the bottom right-hand corner.
109
SOS
Jan 22, 2018
Link
110
The Amazing Frog
Jan 31, 2018
Link
111
Monster Hunter World
Feb 6, 2018
Link
112
For Honor
Feb 15, 2018
Link
The episode was titled "We Tried to Play For Honor & You'll Never Believe What Happened Next!" Games played in this episode in addition to For Honor (Season 5: Age of Wolves) were Alien: Isolation and Skyrim - Special Edition due to maintenance notices.
113
Secret of Mana
Feb 21, 2018
Link
The episode was titled "We Ate a Pig's Head Live (and played Secret of Mana)." Emre eats a pig's head, Aaron wears lingerie and a dress, and they both discover the worst drink yet in which they combine mustard seed liquor (Ethel's Eye of Newt Cordial) with the famed Malort.

The live show includes a pre-recorded cooking show featuring Emre.
114
Super Seducer
Feb 28, 2018
Link
The episode was titled "(Early Access) Super Seducer (Weird Adult Game)"
115
Rainbow Six Siege
Mar 14, 2018
Link
The episode was titled "Rainbow Six Siege (Operation Chimera)."
116
Sea of Thieves
Mar 21, 2018
Link
First sighting of the Eye of Malortsynth (Eye of Newt, Malort, Absinthe) shot option.
117
Sea of Thieves
Mar 22, 2018
Link
The full title of the episode was "Sea of Thieves Live - Emrebeard's Quest." The stream featured Emre and his fans playing Sea of Thieves in a more casual setting than a typical live show. Aaron would show up from time to time.
120
Scribblenauts Showdown + Far Cry 5
Mar 28, 2018
Link
121
Tomb of Horrors
Mar 29, 2018
Link
122
7 Days to Die (Escape From Terror Tower)
Apr 5, 2018
Link
125
God of War
Apr 20, 2018
Link
126
Skyrim - Special Edition
Apr 25, 2018
Link
The full title was "Skyrim - You Choose What We Do (E14)."
127
For Honor
May 3, 2018
Link
128
Conan Exiles
May 9, 2018
Link
129
Skyrim VR
May 17, 2018
Link
130
State of Decay 2
May 21, 2018
Link
132
Detroit: Become Human
May 30, 2018
Link
133
State of Decay 2
Jun 6, 2018
Link
Emre's Birthday Show
Public After Parties
Edit
#
Title
Original
airdate
YouTube Link
-
Drunk and Ridiculous at our After Party
Feb 11, 2017
Link
Game Society makes public the after party for the Feb 8, 2017 live show as they continue to play Fibbage.
-
Sea of Thieves - Emrebeard's Battle
Mar 31, 2018
Link
A portion of the after party that took place on Mar 21, 2018.
Other streams
Edit
#
Title
Original
airdate
YouTube Link
-
GameSocietyPimps Leave a Good Impression - RGD Recap
Aug 8, 2014
Link
An edited version of the Respawn Game Dungeon episode with Game Society's Aaron Yonda and Jason Stephens.
-
Meltdown Shopping Network presents #ValveStore LIVE
Mar 27, 2017
Link
Aaron, Adam, and Jason go to California to the Meltdown Shopping Network and are tortured by the chatty and optimistic hosts, who sing "Spiel a Little Dota" every time someone says the word Dota, which was the game Aaron was playing.
-
Jackbox Party Pack 4
Oct 23, 2017
Link
Streamed on GameSociety2, Aaron plays Jackbox Party Pack 4 games with the fans.
-
Far Cry 5 - 4 Hours of Gameplay
Mar 27, 2018
Link
Originally titled "Far Cry 5 Activities," Aaron live-streamed his gameplay of Far Cry 5 on GameSociety2.
-
Aaron Plays Far Cry, Emre Plays Sea of Thieves
Apr 19, 2018
Link
Aaron and Emre casually playing games with fans on the GameSociety2 YouTube channel.
See Also
Edit
References
Edit