Skyrim for Pimps is a comedic series of lets plays filmed in Bethesda's The Elder Scrolls V: Skyrim. The show has multiple seasons, most recently six seasons, and revolve around several characters (played by Aaron) and their Conscience (voiced by Emre).
The character's stories usually involve completing the quests for Skyrim's various factions or guilds, including, but not limited to, the Thieves Guild, the Dark Brotherhood, the Skyrim Mage College, and the Companions.
Skyrim For Pimps follows a seasonal format, where the beginning and end of a series is usually signified by that season's main protagonist starting and finishing all quests related to a particular faction or guild, with some leeway for random questing and adventuring. Skyrim For Pimps has six seasons.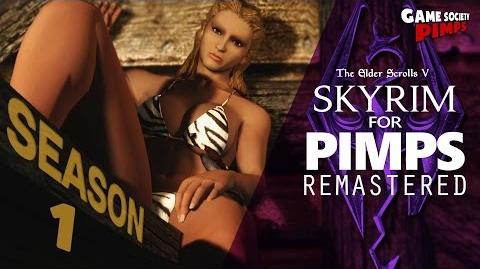 Fün Tits is the main character of season one. In season one, she joins the Dark Brotherhood and falls in love with Astrid, who does not return her love and ends up sending people to kill her.
Crotch Guzzler is the second hero of the epic Skyrim for Pimps Saga, an Altmer mage with some extremely deep-rooted psychological issues and an absurd, inexplicable obsession with skulls. The season follows Crotch as he goes to the Mage College and is sent on incredibly boring quests.
In this season Fün is trying to get a bow to shoot the sun out of the sky. However, she and ends up falling in love with a vampire named Serana. Serana has a problem with talking really quietly.
When Fün first appears in season four, she is coming home and gets attacked by occultists sent by Miraak. She goes to her house and discovers that Serana and Astrid have been killed. She goes off to get revenge and finds Crotch once again. She goes to Morrowind to get revenge, and meets a girl named Frea. She wants her to be her new girlfriend, but keeps getting rejected. She also has to keep going into Black Books that lead to "Library Land" to get closer to Miraak. This is very annoying for Fün, and she keeps getting more and more mad at Miraak.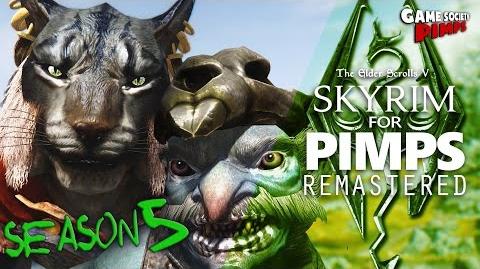 S'oggyballs is the main hero in season 5 of Skyrim For Pimps. His one goal in life is to impress his brother, J'zargo. In his attempts to make his brother proud of him, he became Harbinger of the Companions, married Aela the Huntress, and was promoted to leader of the Thieves Guild. S'oggy has a follower named General Burnside.
Season 6 premiered on October 1, 2014 (CDT) and is the first season (excluding the Pilot) to feature Cock Nibbler, an invincible homeless man with flame-retardant underwear trying to commit suicide. His life changes when he meets the Game Society Pimps Gods and tells him that he is Dragonborn and he needs to complete the main storyline.
Non-canon
Edit
Enderal For Pimps
Edit
Although the game, Enderal, runs on the Skyrim platform, Enderal is a completely separate game from The Elder Scrolls V: Skyrim. Juggs Bonerhound is the main character of the series and the story takes place in the world of Vyn. She first arrives on the shores Enderal and discovers that she has mystical powers.
The story follows Juggs's adventure in Enderal learning how to use magic and try to make sense of her ominous nightmares.
Skyrim - You Choose What We Do
Edit
Dubba Dee Rainbow is the hero of Skyrim - You Choose What We Do series, an Argonian with a colorful exoskeleton. In this series, the fans choose the actions of Dubba Dee.
It has been suggested that Dubba Dee Rainbow can become canon in Skyrim For Pimps if he does not interfere with the Skyrim For Pimps plot line, e.g. Dark Brotherhood, College of Winterhold, Companions, etc. Currently, this idea does not have the support of Adam, one of the main architect of Skyrim For Pimps.
Skyrim For Pimps Donations
Edit
Fans of the GameSocietyPimps could donate money through Subbable (acquired by Patreon, March 2015), which went into a "perk bank."[1] Once a fan donated a certain amount, the fan could then use that money from the perk bank to spend on a perk. The Skyrim For Pimps related perk were as follows:
Season 4: a weapon enchanted in the fan's honor and enshrined in Severin Manor
Season 5: a weapon dedicated to a fan during a Skooma Break
Season 6: a song dedicated to a fan sung by Brad the Bard during a segment called Songs of Skyrim
The GameSocietyPimps have since moved onto a different platform, Patreon, for donation.
References
Edit
External links
Edit
Official YouTube Playlist
Official REMASTERED Playlist
Season 1 REMASTERED (Marathon Feature)
Season 2 REMASTERED (Marathon Feature)
Season 3 REMASTERED (Marathon Feature)
Season 4 REMASTERED (Marathon Feature)
Season 5 REMASTERED (Marathon Feature)

Ad blocker interference detected!
Wikia is a free-to-use site that makes money from advertising. We have a modified experience for viewers using ad blockers

Wikia is not accessible if you've made further modifications. Remove the custom ad blocker rule(s) and the page will load as expected.